GDC Systems' mission is to empower WAN operators with multiservice application solutions.

Most Wide Area Networks (WAN) are hybrid by definition. While diverse technologies make the WAN a melting pot, well defined structures or spheres of activity that comprise the WAN persist including: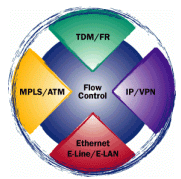 Access
Aggregation Multiservice Edge
Transport Core
GDC's broadband products populate and manage voice, video, and data traffic across these separate WAN spheres, even in bandwidth-constrained environments. Whether your requirement calls for native Ethernet, IP, Frame Relay, TDM, or ATM services, GDC can support these same native service interfaces and manage flow sensitive, standards based transmission using MPLS packet switching technology across the WAN.


By "Hybrid Networking," GDC defines an approach to evolving WAN networks that presupposes the coexistence of established technology solutions alongside the capabilities of more recently introduced communications platforms. Hybrid Networking reconciles your needs (and environments) with the right product solution for the network space. GDC' hybrid networking model and product mix assumes that not one-size-fits-all; it is not the replacement of one technology for another, simply because a technology has more currency in the marketplace.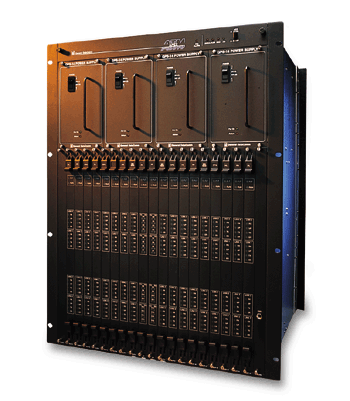 Xedge MSPx Platform

Forward-looking network planners not only support new and legacy services, but are also migrating towards transport technologies such as MPLS that converge Layer 2 and Layer 3 switching of any-to-any services. GDCs Xedge MultiService Packet Exchange platform (MSPx) can interconnect remote enterprise sites with emerging Ethernet/IP and legacy services across an MPLS or ATM WAN.


Xedge MSPx enables Metro Ethernet Forum compliant Ethernet services on the same cost-effective and reliable platform that offers native services such as TDM, Frame Relay and ATM. This convergence entails a graceful, incremental migration and mediation between legacy circuits and new packet-based services. Users benefit by accessing the richest variety of standards-compliant service modules and interface speeds, along with advanced packet technology that reliably and securely satisfies user demand for new services.


At the heart of the Xedge MSPx platform is the Packet Cell Switch (PCx) and Packet Circuit Emulation (PCE) modules. The Xedge PCx enables Metro Ethernet Forum compliant E-Line services over an MPLS or ATM backbone. It also supports the transport of legacy TDM, ATM and Frame Relay service packets using pseudowires. A variety of additional plug-in slot controllers can be added to support diverse services. The Xedge PCe controller serves as a convergence gateway for the efficient transport of TDM-Ethernet over a packetswitched network. PCx and PCe can interface seamlessly with a diverse complement of Xedge line interface modules.



The bottom line is GDC's strategic product vision is to provide standards-based technology that yields maximum return on investment over the life cycle of ownership, using emerging technologies such as Pseudowires, GDC can deliver true convergence over multiple services on the WAN.


---
Data Sheets
---

Overview - GDC Systems

Xedge Packet Cell Switch - PCx - Overview

IP Services Gateway - ISG2

Packet Cell Switch - PCx

Xedge Packet Cell Link Controller - PCL

Xedge Serial I/O LIM

Xedge Adaptive Serial I/O LIM

Xedge OC-n / STM-n LIM

Xedge Circuit Emulation Module

Xedge PDH Controller Module

TID-4 Time Independent Data Transport

Xedge Packet Circuit Emulation - PCe -

Xedge Analog Voice Module

Xedge Voice Service Module

Xedge T1/E1- 28 Port HD LIM

Xedge T1/E1- 16 Port LIM

Xedge DSX1-IMA T1 Line Interface Module for ATM inverse Multiplexing

Xedge LCE-16 Line Interface Module

Xedge E1-IMA Line Interface Module for ATM inverse Multiplexing

Xedge DS1-2CS-4CS Line Interface Module

Xedge E1-2CS/4CS Line Interface Modules

Xedge HSSI Line Interface Module

Xedge DS3-2C T3 Line Interface Module for Circuit Emulation with Enhanced Clocking

Xedge E3-2C E3 Line Interface Module for Circuit Emulation with Enhanced Clocking

Xedge ATM Cell Processing Module

Xedge Node Timing Module

Xedge Quad Port Ethernet Interface

Xedge Ethernet Controller

Xedge Switch Fabric

Xedge DSLIM

ProSphere Network Management Suite For Xedge MultiService Networks

Xedge 6002 Compact Xedge Chassis 1RU

Xedge 6160 5-Slot Chassis

Xedge 6280 10-Slot Chassis

Xedge Chassis System Power/Management

Xedge 664X 16-Slot Chassis
---
Product Briefs
---

Multiservice Packet Xchange for Converged Networks

Mission Critical Networks

Past Performance Summary
---
Solutions Brief
---

Increasing Fiber Capacity With CWDM

Cost Saving DSLAM Aggregation